Thanks for coming out to the Portland version of Dickslap! What a fun scruffy night, I mean, the gif says it all. Sorry for the delay on your photos, we've had a busy month over here, join us in December for the next installment of GOSPEL featuring the one and only MICHELLE VISAGE! Plus, P-Play (Honey Soundsystem), Ambrosia Salad, Nark, Shitney Houston, Roy G Biv, Hold my Hand, Madame Dumoor and.. more! 12.15 at the FEZ BALLROOM, get your tickets HERE and grab a VIP to hang with Michelles Visage's rack!
Photos below by Rachel Robinson, but first, you know half of Portland is coming up for this, right? Just sayin'.
Ok, so... if you were there, I probably don't have to explain this.... but that shit was CRAY. Thank you all for turning it the hell out, crazy shit happens when we team up with Butch Queen and Riff-Raff! This was a "soft launch" (which really was more of a hard rager) for this new monthly event which begins in full force on January 10th (and every 2nd Friday following), so go ahead and change all your work schedules to accommodate your second Saturdays from here on ;).
Tonight let's get Jacked with special (and handsome to boot) queer rapstress/homo/singer delight Rica Shay... ANDDDDD it's the homecoming performance of our beloved... AMOANIA! DO NOT MISS!
AND... THIS IS IN TWO WEEKS!
Okay okay, without further adieu, your wandering shots by Kevin Kauer, check out the Shade Seattle Facebook page for your photobooth shots!
and photos by Rachel Robinson below!
What a wild and wild ride, maybe my favorite Dickslap ever! Jake Shears was amazing and hopefully touched everyones butts, and Cherry SurBete and Olivia LaGarce were fiercing left and right, and it wouldn't be anything without a couple hundred handsome scruffy dudes crawling all over the place, thanks for that.
Can Dickslap GET any crazier?? Let's find out next month for our 3 year anniversary(!!) with the charming and painfully handsome Brian Maier (SF) at the 1's and 2's, and detectress Ambrosia Salad (LAX) working the room and the GoPro!
But... before that... THIS HUGE THING IS HAPPENING!!! GETT TIXXX NOWWWWWW!!!!
Without further adieu... photos by Rachel Robinson!
It's the Camvestite! Dickslap each month now bears a GoPro mounted queen host and most recently we had the lovely Ladybear herself, here's a little teaser clip from the action, what treat did Ladybear find in the dark corners of The Eagle I wonder?
ALSO R U RDY 4 THIS.
Franz von Stuck's influence was major. So major that it seems like an afterthought at this point in history. Among some of his greatest achievements are creating cohesive illustration styles for use as vignettes on book covers, and other print media (basically helping to create the concept of "graphic identity" alongside his companions, and colleagues in the Munich Secession, of which he co-founded), and radically exploring color theory, mastering the spacial qualities of color depth.
He was also the lifelong favorite painter of Adolf Hitler. It's easy to see why too. His color palettes seldom leave his signature black, white, and red trifecta, but when they do it's pure magic. Black Magic that is not to be missed. This will be the third time von Stuck's work will have touched Western land with the last time being in 1898
at the Third Annual Exhibition at the Carnegie Institute in Pittsburgh, only 5 years after his US debut.
Right now you can see a large body of his most iconic, and important works at the Frye Museum in Seattle's lovely first hill neighborhood until February 2nd, 2014. It's an absolute MUST.
"What's that straight guy doing here?"
That's the sometime reaction Stose has gotten when performing at queer events, he tells me. It's understandable, since his music and performance style are much more jarring and "in your face" than the typical happy, homo-house dance music you often here at the gay clubs.
I took the opportunity to chat with Stose for a while prior to his recent live performance at the Seattle Eagle in October. He has a polite and friendly demeanor in conversation that belies his brash onstage persona. And he is most definitely gay.
His recorded music has a raw, unpolished feel to it that can be attributed as much to his punk aesthetic as to its lack of production quality. That is to say, there's more to it than simply the need for more polish. The guy is raw, and his music reflects that.
For a 24 year old ("I turn 25 in December," he says), this guy sure has seen a lot. Stose hails from the bucolic little burg of Charlottesville, VA, but has lived in Richmond, San Francisco, London, and Greece, before settling in New York. He's done time in restaurant kitchens, and even considered culinary school at one point. He spent 4 years studying creative writing. He started performing in punk bands in 2007, and has been pursuing a hip hop career since 2010.
Oh yeah, and he's done porn.
"People recognize me every once in a while," he admits. "It definitely doesn't help that I have done it. People sure do love to make a big deal about it."
Just doing a quick Google search turns up not only the many pictures of him naked and, shall we say, in flagranti, but also the extreme amount of public vitriol people seem to feel towards members of the adult entertainment industry. It's enough to make you not want to get out of bed in the morning.
"It just shows how sexually deprived people are in this world," he claims. "When that is all they can focus on, something I did for one year of my life just so I could get out of Virginia. I am not ashamed of my past, because mistake or not it's helped mold me into the person I am today."
And the person he is today is clearly not gonna take it anymore. His music has some fairly classic themes, ranging from the troubles of growing up poor (Alive) to the feeling of being a societal cast-off (Misfits). And while his lyrics do include the requisite mentions of drugs, liquor, and partying, you get a sense that there really is some pain there that he's trying to kill.
"Yeah I am gay, but that doesn't mean I am going to write a song about ice cream and have a bunch of half naked guys in my video."
When asked about his musical influences, you get a who's who of a-list punk artists and bands, most of whom had their heyday long before this guy was even born.
"To name a few," he says, "Henry Rollins, Vivienne Westwood, Sid Vicious. As for bands, Bad Brains, Dead Kennedys, Black Flag, Colt 45, Monster Squad."
But he's first and foremost a hip hop artist now, of course, so I ask him what his rap influences are.
"I grew up on Dre, Snoop, Eminem," he tells me. "Being from Virginia, I have also been very influenced and inspired by VA artists like Pharrell, Clipse (Pusha T), Re-Up Gang, and Missy Elliott."
And, while the comparison to Eminem is too easy, with their matching skin tones and all, the similarities in their musical themes are noticeable: poor white kid, scratching his way to the top, doing whatever's required to get ahead. Suspiciously absent from his influences, though, are any queer artists, and this is evident in his music. While he's very open about being gay, his public persona, his music, and his video are all very macho. I wonder if sexuality influences his music at all?
"Of course it does," he assures me. "I have gotten a lot of flak because my video is 'too straight' and I am 'pretending to be something I am not'. Of course, everyone that knows me personally knows that is exactly who I am. Also if people took the time to listen to my lyrics, I talk about my sexuality all the time. People are so narrow minded nowadays. Yeah I am gay, but that doesn't mean I am going to write a song about ice cream and have a bunch of half naked guys in my video. That's not me."
Clearly Cazwell hasn't made it onto his list of influences for a reason.
But why hip hop? Why not stick with punk?
"I grew up on both punk and rap," he explains. "So after both of the punk bands I was in broke up, I turned to rap. I knew I still wanted to be doing music and rap seemed like the next natural step for me. I also turned to rap because I could do everything myself. It can be hard to keep a whole band motivated when you are just starting out."
Indeed. But the amount of drive he possesses is clear. It's hard enough to break into any musical industry and and be successful, and the rap world is as filled with as many one-hit wonders as any other musical genre. He keeps at it, though, despite a failed attempt to raise money to record his first album through Kickstarter, by plugging his music wherever he can and performing wherever someone will have him.
For Stose, though, there's more holding him back than just the unlikely odds of anyone making it big in the music biz because there's no denying that, despite the rise of artists like Mykki Blanco, Le1f, and Brooke Candy, there's still a lot of homophobia to overcome. So has Stose encountered any resistance from the rap community as a queer rapper?
"Unfortunately I have," he says. "I don't hide my sexuality and I have definitely experienced backlash from that. I have had multiple people in the industry stop replying to my calls or emails when they found out [I'm gay]. I'd be lying if I said it didn't bother me. Unfortunately that is the world we live in, but I would rather lose work than lie about who I am."
An admirable, if not necessary attitude to have, for sure. How about from the queer community? Has he felt the love?
"The queer community has been mostly supportive," he insists. "The problem is, most gays don't like punk music. And that is a huge part of my music."
So what does the future hold for Stose, poised for success as a queer artist in a homophobic industry, with a make-it or break-it attitude, and colorful past that drives him forward?
"At one point I really want to be signed," he admits. "But I am doing things on my own and having a blast. Although being an independent artist is a lot of fucking work, I have total creative freedom to do whatever the fuck I want right now. I don't want to lose that. With that said, I would consider signing if the right contract came my way. Who knows?"
Who knows, indeed? You can catch Stose on his national tour in support of his mixtape "Destroy", or just check him online, facebook, or twitter.
Just when you think Dickslap couldn't get any crazier, well.. it DOES. What a wild night, thanks so much to our sexy punk-faggot performer STOSE for rocking out the cage, to Lady Bear for workin that room and workin that camera, we can't WAIT to show you the footage she got, and to Chipmint and Nark for cranking out the tunes.... all these beautiful and fun mens keep coming out of the wood works, don't miss out, next month's Dickslap is on NOV 15th, hosted by Cherry Sur Bete and Olivia LaGarce, and features an EXTRA special guest DJ that we are not allowed to announce yet, stay tuned!
Until then, come out this Friday night for a real treat, Jack is being graced by the San Francisco legend and disco daddy, BUS STATION JOHN! This is real special, $5 all night, woof woof. Check out an interview and learn more on about Bus Station John over here on Bottom Forty.
Oh, and while you here, you might be interested in knowing about THIS majorness.
Introducing our newest all-out balls-to-the-walls smash happening three times a year at Neighbours Nightclub, FEROCIOUS MEMORIES! Featuring VIP host Amanda Lepore, live performances by Rye Rye, Bright Light Bright Light (UK), dj'd by P-Play (Honey Soundsystem, SF), Nark, Chelsea Starr (PDX) and Ambrosia Salad (LAX), hosted by Aleksa Manila, Mama Tits, Artstar, dancers Ross Milam (Scruff), Brendan Baby Bear and Jason Krause (PDX), with plenty of other surprises for you, tickets go on sale very soon, save the date.... Friday the 13th! December!!
Without further adieu, here are your pretty faces, photos by Rachel Robinson!
Amoania, Grace Towers served it up at Jack! Thanks to Christy Love from the House of Stank for turning out the great jams all night, grab your pixxx cuz you look good.
Join us this Friday for DICKSLAP! Featuring the mono-browed-mustachioed-babe ChipMint, plus special guest performer from NYC... Stose! And this evening will all be captured from the wig of our host (via GoPro)... Lady Bear. Be... there...!
Photos by Rachel Robinson
Great fun, homos, tunes and more at sex.wav this month, and our Jinkxy finally came home for a visit! Photos by Rachel Robinson---
Make sure to join us this Saturday at The Eagle for Jack w/ Christy Love (House of Stank, NYC) vs Nark and performances by the amazing Amoania and Grace Towers (SF)! Hosted by Zakaria Ibrahimi.
Yeah, that's a gif of Terry Hecker / Trouble's ass getting wailed on by Colby Keller, got a problem? Lordess, what a sexy re-visit we had to the spanking booth! Take a look at the pics below and thanks again to Sleazy McQueen for turning out the sets, join us this Friday at JACK for a special intro to winter dance party with Nark and special guest Kadeejah Streets (Innerflight), you know what keeps you warm in the winter? ACID.
Don't forget too, next Saturday 10/12 a special Jack Saturday madness with Christy Love (House of Stank, NYC) vs. Nark, Amoania and Grace Towers (SF), hosted by Zaki. It's gonna be wild. ANDDDDD I'm still peeing about Kim Ann Foxman coming to Jack next month on November 8th! Get presale tickets to this because it might get a lil' packed!!
Photos by Rachel Robinson!
Another wet and wild night at DICKSLAP thanks to Aaron Clark and Minerva! There's some big and exciting new shenanigans coming down the wire at The Eagle in the next coming months so you better get ready to set up camp. Shenanigans like.... Kadeejah Streets next Friday, a special Saturday JACK w/ Christy Love (NYC, House of Stank) vs. Nark with performances by AMOANIA & GRACE TOWERS (SF), hosted by Zaki, DICKSLAP October features ChipMint (SF) and hosted by the one and only Ladybear (SF) (RSVP HERE), and yes, I am mounting a gopro camera into her wig, so get ready. Oh, and did I mention little miss Kim Ann Foxman is coming to Jack on November 8th? OH AND BUTCH QUEEN starts partying with us on November 22nd for SHADE.
Take a moment to just soak all that in, and then enjoy your pretty faces below, photos by Rachel Robinson.
All us homos live on the hill, and they say when you are in close quarters with others, and really get to know each other, everybody gets on the same cycle... well it's that time of the month for us queers and homos... Dickslap is tonight at The Eagle, your must not, cannot miss, maybe will not remember party of the month. Nark Magazine invites you to come out and bask in all the unabashed sweaty glory tonight, there's no judgie judges here, just cute ass beats coming from the beardy techno dude mister Aaron Clark, a certain miss Minerva Major-Markos forcing non-consensual dancing and jello shooting, Scruff girl Ross Milam juggling homos in the gogo cage, and, well you get the idea. Check out the full deets below.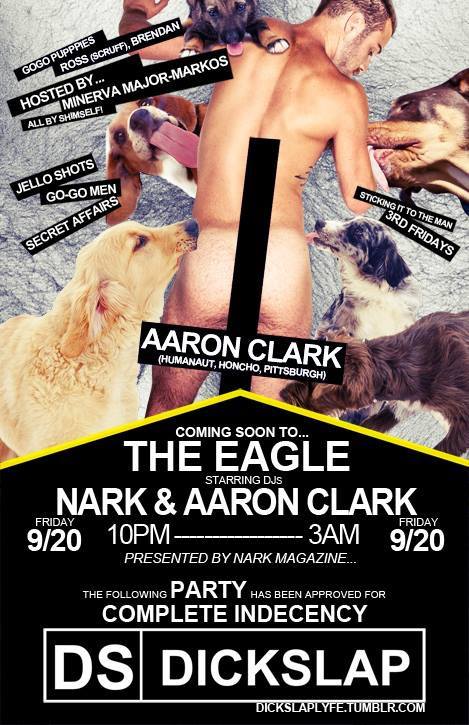 DICKSLAP! Third Fridays at The Eagle, a let loose scenario for boys and girls and more boys... a wonderland full of free beard rubs, slick hands and magical dancing gogo men, where the jello shots seem to just shoot themselves down your throat, and the sounds of the discotheque parade around and intoxicate you until you finally wake up from the dream, potentially next to someone you don't remember. Got it?

↓↓↓SPECIAL GUESTS↓↓↓
*Aaron Clark (Pittsburgh, Humanaut, Honcho)
Do you like cute dudes with beards who emit waves of sexy dark techno? Great, we'll see you there.

↓↓↓RESIDENT ASSHOLE↓↓↓
*Nark (Nark Magazine, Bottom Forty, Dickslap)
Getting in your business. All of it.

↓↓↓HOSTED BY↓↓↓
*Minerva Markos

↓↓↓CAGE PUPPIES↓↓↓
Ross Milam (Scruff cover girl, smize!!!) and Brendan Zincavage

Photography by Nark Magazine, Jello Shots by Bill Cosby, Fuzzy gogos created by moms everywhere.

FRIDAY 9.20 AT THE EAGLE
314 E. PIKE ST
9PM-3AM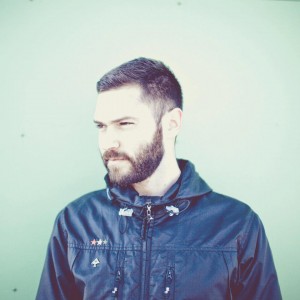 Aaron Clark, arf.[/caption]